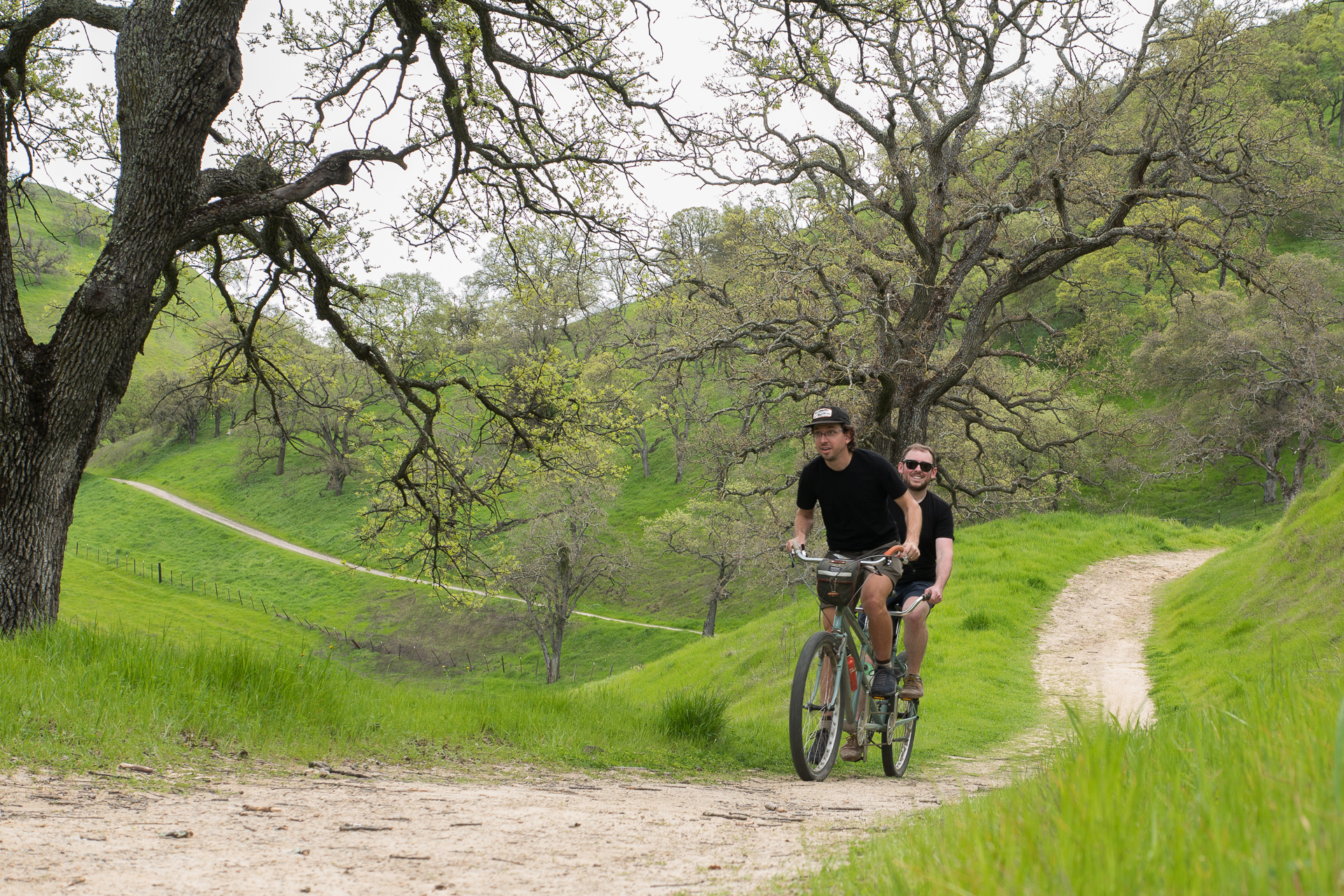 Hey, that's us! Just two extremely-cool bike guys riding a tandem bicycle together. It's metaphorical.
It's been a long road to get to the launch of Bike Insights and we're unbelievably excited to welcome you check out the site. We are Dan and Zach, two bike nerds on a mission to help our friends in the cycling community find their perfect bike. Okay… bikes. Don't worry, we all have categories.
On the Bike Insights Blog, we'll be giving a behind-the-scenes look at the site's development and deep-dive into the murky world of bike geometry.
What is Bike Insights?
Bike Insights is the cyclist's guide to understanding bicycle design. We use intuitive bike diagrams and explanations written in plain English to help guide you in the search for your perfect bike. We're not trying to sell bikes and, frankly, we don't care what you ride as long as it's right for you.
Bike Insights is not just a comparison shopping site or an esoteric bike geometry nerd tool. We combine several approaches to give a complete picture of a bike using objective, data-driven methods such as:
Bike-on-bike comparisons using simple diagrams that illustrate the differences between designs.
Charts and callouts describing how bikes fit within a category.
Predictive analysis of bike size and fit based on real world feedback from our users. 
Why is it Needed?
Finding the right bike is hard. Sure, some folks get lucky and their first bike ends up being the bike of their dreams, but often times that's more a matter of low expectations or just not knowing how much better an experience they could be having.
Perhaps your journey has involved these methods of discovering bikes:
Test rides
In an ideal world we would have unlimited time to ride an unlimited number of bikes. But local shops can't carry every brand and their inventory is often constrained. Test rides are hard to do objectively and sometimes we focus on things like how crummy the saddle feels or how the cockpit isn't set up quite right. Perhaps more of a risk is how easily our cognitive bias can cause us to gloss over problems because we just want to like a certain bike.
Bike Insights can help you make more of your test rides. As you leave feedback on how bikes feel, we can use this information to profile what size and fit of bike is likely to work best for you. And our analysis can help to explain which aspects of a bike's design is most important to you.
Marketing and reviews
We all have different body types, fit preferences, riding styles, and use-cases. Unfortunately, bike designs can change so significantly from one size to another that a small size bike can effectively be a totally different bike than the same model in a larger size. One rider's experience riding one size of bike doesn't necessarily translate in a universal way. 
We want Bike Insights to be tailored to each user, giving you the ability to visualize the geometry for your size of bike while highlighting issues that might be unique to you.
Geometry tables
You might think that since we are data science guys, we would love geometry numbers. Nope. We hate 'em.
Our brains have not evolved over millions of years to interpret tables full of numbers. Most of us can't process more than a few data points at once so we tend to get tunnel vision when looking at bike geometry numbers. 
Bike Insights allows you to visualize a bike's geometry in its entirety with absolute clarity. Small differences that could be overlooked in a table full of numbers become obvious. Plus we give you the ability to change build options like wheel and tire size to see the effect instantly.
Of course, for those who do love to dig into geometry charts (you're weird but we won't judge), we provide all the data plus extra juicy analysis to help highlight potential areas of concern.
To be clear, we LOVE local bike shops, review outlets, and nerding-out on geometry. Our data-driven tools are a great compliment to however you go about looking for bikes and we think that Bike Insights will quickly become an important arrow in your quiver.
What's Next?
In the coming weeks, our goal is to improve the ways in which we help you understand bike sizing, fit, and positioning within the greater world of bikes.
You can help us in this effort by leaving feedback on bikes you have ridden. This feedback is key to the predictive analysis we have developed which will allow us to provide personalized insights.
To help out, just find a particular size of bike you've ridden, click "I've ridden this" then "Report your experience".  We'll ask a few questions and then add the bike to your personal bike list so you can easily find it again.  Easy!
We can't wait to tell you more about the features being rolled out in the coming weeks. Follow us on Instagram and Twitter to stay in-the loop!
Cheers,
Dan and Zach
Bike Insights